---
Santa Monica Bars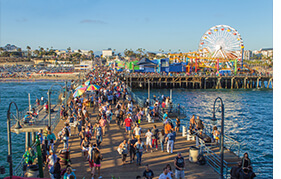 Santa Monica, a beautiful city in western Los Angeles. Where the cold sea breeze greets locals in every morning and the throbbing and vibrant neon lights cap off the night. Home to nearly 100,000 people, Santa Monica is a famed resort town even during the early 20th century.
Because of its climate and people, the city has experience a boom since the late 1980s throught he revitalization of its downtown core with significant job growth and increased tourism. People from around the US and the world come to Santa Monica for business, leisure, and pleasure.
No wonder Santa Monica's nightlife is as vibrant as its day. Night owls immediately converged in various spots as soon as the sun hides its rays over the horizon. When the moon moves over, red lights and flickering bulbs immediately turn on signalling another exciting night time pleasure.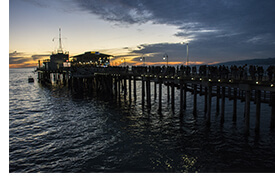 Because of the number of people coming to Santa Monica at night, the city now hosts several bars, night clubs, and other night spots to enjoy the evening with friends or to meet new friends over a bottle of beer.
This is the reason why we created Santa-Monica-Bars.com. We want to provide you with a quick list and compelling review of the different bars and lounges in the area so you won't have to waste time in a bar that does not fit your personality.
Browse through our list and read our reviews of the different bars around Santa Monica. From dive bars and sports bars to the classy bars and lounges, pick the right spot that fits your needs.
If you're not in Santa Monica be sure to check out Ann Arbor Bars, Tampa Nightlife, and Wrigley Bars.